Our Mission
We are building global communities of confident parents with innovative, ergonomic baby products that enable and encourage bonding.
---
It All Began With A Mother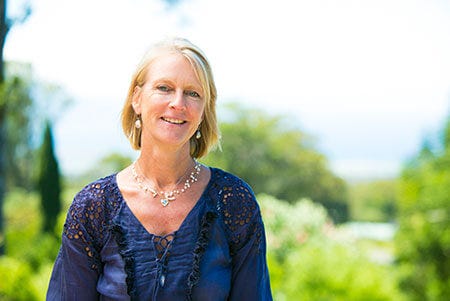 Twenty years ago, a mother living on Maui was not satisfied with the baby carrying options available to her. Looking to keep her new son close to her body, she tried several different carriers, but found nothing that satisfied her needs for comfort and balance. She was deeply inspired by indigenous babywearing practices and The Continuum Concept — the idea that, from birth, we must be treated with great care to achieve optimal wellness in our future life.
With this premise at the top of her mind, and a background in design, she set out to create something that was beneficial for her baby as well as comfortable and easy for parents to use. Drawing inspiration from the traditional mei tai baby carrier, the very first Ergobaby Baby Carrier was born.
With that humble design, Karin Frost revolutionized how we carry babies. Her soft structured carrier became the Gold Standard of babywearing.
Ergobaby was founded on the belief that there's magic in every little parenting triumph, even during the not-so-joyful jobs of raising your little one. Through award-winning baby carriers, strollers, and more, Ergobaby is committed to providing parents with the foundation to thrive with products that are engineered for comfort and ease.
With carrier styles to suit every family, Ergobaby has become the most recommended Baby Carrier manufacturer, carrying millions of babies all over the world. These carriers are available to support families through two babywearing journeys: All-in-One (with Omni Breeze, Omni Dream, or Aerloom) and Ages & Stages (with Embrace, Aura Wrap, 360, and Hip Seat). Our carriers give parents the freedom to enjoy life's big and small adventures, all while keeping their little ones close. Our products are ergonomically designed to support a baby's developing body and the caregiver that wears them - the ultimate in comfort and ergonomics, Ergobaby carriers are an essential for every parent's babywearing journey from birth to toddler years.
But we didn't stop there. Over the years we've applied our expertise in comfort and function to provide growing families with the best products in other categories including strollers, nursing pillows, sleep products, and the Evolve Home Collection, which features bouncers and high chairs - all with the goal of supporting parents in the joys and jobs of raising their young children.
Ergobaby is headquartered in Los Angeles and is passionately sold in more than 700 retailers, in the United States and in over 50 countries.