This voluntary recall of first-generation METROUS Stroller harnesses is being conducted in cooperation with the U.S. Consumer Product Safety Commission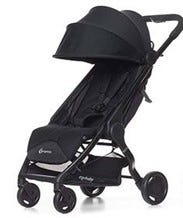 Model: METROUS1
Model: METROUS2
Model: METROUS4
Hazard: The button on some buckles that releases the harness can break and detach when pressed by the user while the child is in the stroller, making it difficult to release and posing a choking hazard to young children. There have been no reported injuries, but the product is being voluntarily recalled in an abundance of caution. The product meets all regulatory requirements.
Recalled Products: This recall involves the Ergobaby METROUS1, METROUS2, or METROUS4 Compact City Strollers, produced and sold from July 2018 through September 2019. The strollers come with a harness that has a black release button in the middle of the buckle. The model name is located on the inside of the frame, above the right-side rear wheel. The strollers have a black, gray, or teal blue canopy and Ergo Baby printed on the front bottom of the stroller.
Products with a gray release button or a button with an Ergobaby logo in the center of the harness buckle, as well as other item numbers are not affected by this recall.
Remedy: Consumers should immediately stop using the stroller and contact Ergobaby with a photo of the label containing the model number and a photo of the harness to receive a free replacement harness.
For additional information and to contact us directly, please email Ergobaby at [email protected] or contact Ergobaby toll free at (888) 416-4888 from 9am to 5pm PST Monday through Friday.